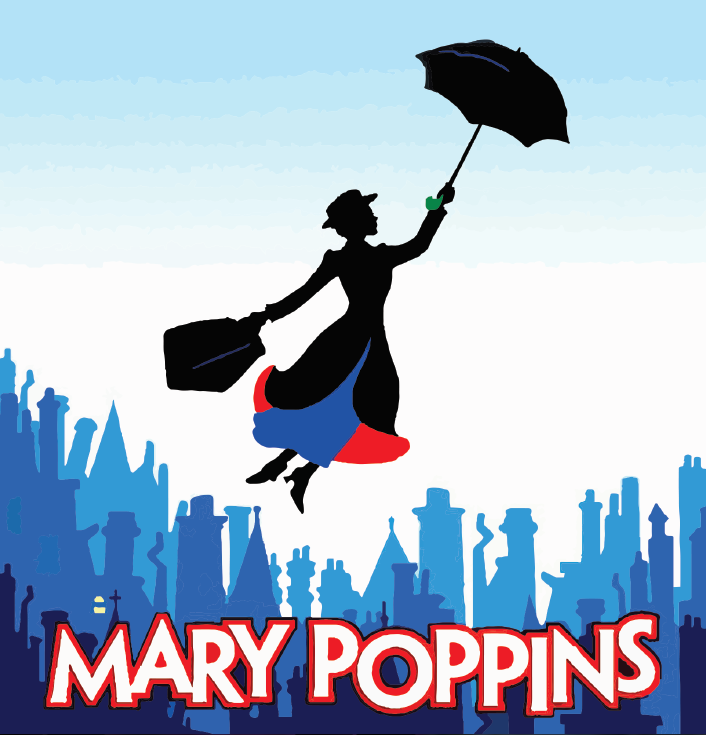 DISNEY & CAMERON MACKINTOSH'S
ORIGINAL LYRICS BY: RICHARD M. SHERMAN AND ROBERT B. SHERMAN, BOOK BY: JULIAN FELLOWS, NEW SONGS AND ADDITIONAL MUSIC AND LYRICS BY: ANTHONY DREWE AND GEORGE STILES
July 25th through 28th, 2019
Cedar Ridge High School, 1125 New Grady Brown School Rd., Hillsborough, NC 27278
One of the most popular Disney movies of all time is capturing hearts in a whole new way: as a practically perfect musical! Based on the books by P.L. Travers and the classic Walt Disney film, Disney and Cameron Mackintosh's Mary Poppins delighted Broadway audiences for over 2,500 performances and received nominations for nine Olivier and seven Tony Awards, including Best Musical.
The jack-of-all trades, Bert, introduces us to England in 1910 and the troubled Banks family. Young Jane and Michael have sent many a nanny packing before Mary Poppins arrives on their doorstep. Using a combination of magic and common sense, she must teach the family members how to value each other again. Mary Poppins takes the children on many magical and memorable adventures, but Jane and Michael aren't the only ones upon whom she has a profound effect. Even grown-ups can learn a lesson or two from the nanny who advises that "Anything can happen if you let it."
Mary Poppins is an enchanting mixture of irresistible story, unforgettable songs, breathtaking dance numbers and astonishing stagecraft.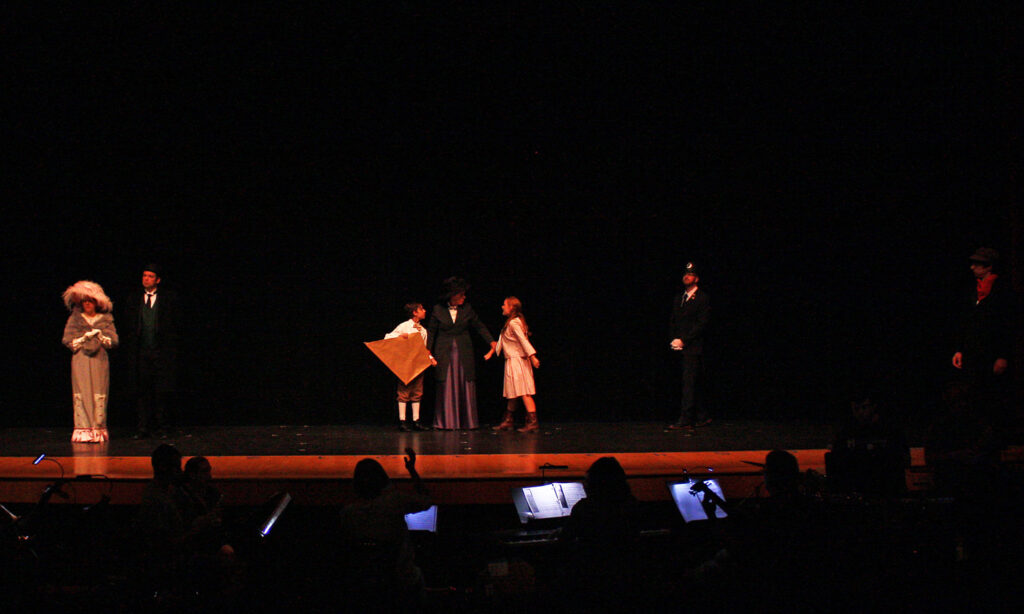 CAST LIST:
Bert – Ross Emery
George Banks – Alex Raines
Winifred Banks – Elizabeth Langfeld
Jane Banks – Kaelie Goss
Michael Banks – James Gifford
Katie Nanna – Elizabeth Raines
Policeman – Dan Howarth
Miss Lark – Emily Jernigan
Admiral Boom – Alex Bass
Mrs. Brill – Terri Leonard
Robertson Ay – Cameron Ross
Mary Poppins – Cassandra Clare
Park Keeper – Andrew Kotter
Neleus – Julian Rios
Queen Victoria – Stephanie Turner
Bank Chairman – David Boss
Miss Smythe – Jennifer Soulier
Von Hussler – Joel Leonard
Northbrook – Davis Leonard
Bird Woman – Lisa Woodward
Mrs. Corry – Kelly Durfey
Fannie – Bella Morelli
Annie – Sarah Fox
Valentine – Carrie Sippy
Miss Andrew – Megan Gifford
Ensemble:
Alexandria Matthews
Andrew Morelli
April Ruley
Ava Grasty
Bella Fox
Bella Morelli
Bella Tesoro
Bridget Mehl
Calvin Jones
Carrie Sippy
Catherine Copeland
Chloe Pierson
Christina Morelli
Dacey McAlexander
Davis Leonard
Donna Uhlenberg
Dylan Matthews
Eden Jones
Emily Jernigan
Emma Butler
Emma Roe
Ian Reddington
Ian Johnson
Isabel Sutton
Jessica Boss
Josh Morelli
Julian Rios
Kim Woodell
Kyla Mehl
Laura Emery
Layla Ruley
Lena Howarth
Lily Howard
Lily Stagner
Lindsay Woodell
Lena Howarth
Merilee Nixon
Mykah Green
Nora Raines
Oliver Jones
Olivia Sutton
Owen Raines
Rebecca Gatlin
Richard Johnson
Sarah Fox
Savannah Bruett
Sawyer White
Sebastian Wilson
Stephanie Turner
Thomas Matthews
Tina Craven
Victoria Matthews
Wesley Jones
Darcy Hogarth